Greetings from Schar!
Fall is upon us and we are more excited than ever to jump into the leaves and enjoy the cooler weather with friends. With so many fun holidays coming up, we wanted to give you the resources you need for another perfectly gluten-free season.
Enjoy!
Your Schar Team



Exclusive Discount Here!
Schar's tasty Frozen Hearty Bread is the perfect addition to your seasonal dishes and, of course, sandwiches! It's baked with millet and quinoa, delicious ancient grains packed with nutrients.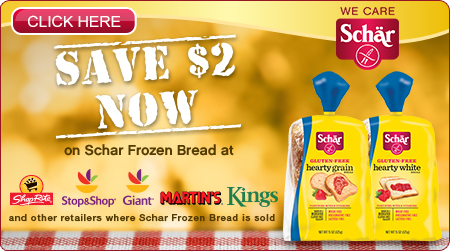 Don't have frozen bread at your local supermarket? Fill out our product request form!





| | | |
| --- | --- | --- |
| | | Join Schar's talented gluten-free chef Sarah in our new series of online recipe videos. Our new web series, Gluten-Free Cooking with Schar featuring, Culinary Institute of America-trained, Chef Sarah Green, is full of amazing creations you can make at home this fall season. |

| | | |
| --- | --- | --- |
| Most people are familiar with sweet bread pudding, but the warm flavors of fall perfectly highlight Schar's European flair. This bread pudding is a tasty treat any time of day and is guaranteed to wow your guests. | | |
| | | |
| --- | --- | --- |
| | | Want the skinny on millet? It's gluten-free and loaded with vitamins and minerals! See this and other useful, gluten-free infographics here. And don't forget to try out our new line of Bontà d'Italia Gluten-Free Pasta, made with millet and other healthy ingredients. |
Spice Things Up

This summer turn your barbeque into a Schar-beque by adding some of these gluten-free herbs and spices to your favorite backyard meal.



Tips & Tricks
Enjoying a Gluten-Free Summer
Summertime is vacation time, but it's no picnic trying to stay gluten-free away from home. Luckily, we have everything you need to help maintain a gluten-free diet on the road, in the air, and around the world. Let Schar be your GPS for safe, secure, gluten-free travel.



Schar teams up with the Gluten Detective Camp

| | | |
| --- | --- | --- |
| | | Schar recently joined forces with the Gluten Detective Camp in Bloomington MN. This fun camp provides children ages 5-12 with an opportunity to learn important social coping skills for dealing with a gluten-free life. Why did we participate? Because we care! Find out more about the camp here! |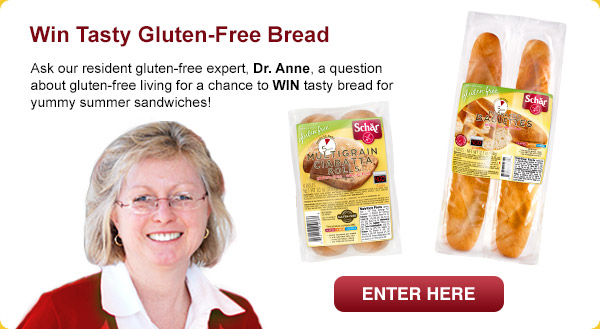 To opt-out please email Info@Schar.com

© All rights reserved for Dr. Schär GmbH

Dr. Schar USA Inc., 1050 Wall Street West, Suite 370, Lyndhurst, NJ 07071
www.schar.com
|
info@schar.com
This promotional/informative e-mail has been sent to you because you have agreed to receive such e-mails or because of an existing customer relationship with our company. We would like to inform you that, in accordance with art. 7.4, item b) of legislative decree 196/03, you have the right at any time to refuse to receive any further promotional e-mails, by sending an e-mail on this subject to the following address: info@schar.com. You may also exercise all other rights under art. 7 of said decree.